Designing cheap yet chic. Thats how i have to
like to decorate. This mantle decor was practically made
solely from things around my house.
The wreath, I made from things I already had, so
it was free. The pumpkins I bought at Target
for $2.50 each, kinda a steal.
Some leftover tulle from my SIL wedding decorations,
perfect for some vase bows.
And the garland made from fabric scraps
I had laying around, in excellent fall colors.
That means I spent $5!
This was super easy to do, I just had
to think outside the box. You don't
need to go out and buy tons of decorations
or holiday crafts to decorate the house with
(but you can if you want)
A little elbow grease and some cute colors go a long
way to bring in the holiday spirit.
Hope I inspired you!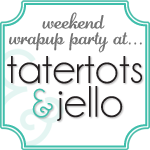 Pin It