You guys!
I am so excited to say that my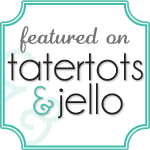 TT&J is a big name in the blogosphere and Jen
really knows her stuff.
What she has done with her blog is
what, I imagine everyone who starts a blog, hopes
to achieve. I know I do.
I just cant believe I got featured!
I am just so happy, and had to share!
Also, I was looking for sleepers for the mini
and lets be straight, Im not usually huge fan of
the baby (boy) selection at Target.
(now, girl stuff, i wish those were in my size. adorbs.)
I normally find my selection of clothing
at our local H&M.
But today, I was pleasantly surprised.
These little 2packs are only
$8.99.
And they perf for a boy.
Not cheesy, or too "baby-ish."
They zip, which is a plus.
Snaps are so out (read: annoying)
Pretty stylin if you ask me.
And 2 for $8.99.
Steal. City.
And, if you havent noticed,
I am a big fan of stripes,
so granted, I loved these pants.
They are super cute in person,
so much so that they were sold out...
Looks like Im not the only one
loving these Circo deals.
Hope you guys snag some up!
(at your own Target, please)
Glad I could be out there, scouring the globe,
(the globe, the plaza, same diff)
to find all these great
and fashionable deals for you all!
Pin It