A while back I bought a fabulous cheap
gray shirt from TJ Maxx, I'm talkin
5 bucks cheap. I love these shirts
and like to buy plain ones all the time.
Either for a staple plain tee or to dress up.
This particular one I dressed up. I sewed on some
rhinestones and added cute little lace details.
After a years worth of washing though, the lace
had seen its day.
With the rhinestones still lookin pretty sharp,
I sewed a few more on to the shirt.
And being inspired by this sweater I bought
at Anthropologie at Christmas time.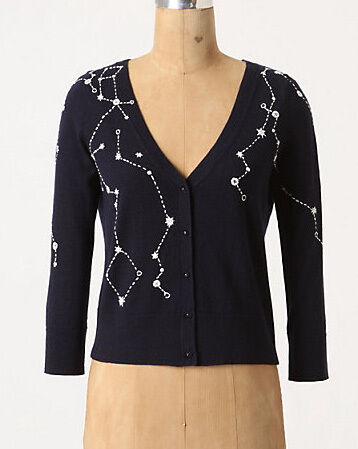 I bought some embroidery thread and mapped out
my own little dipper.
It was really fun, affordable, and easy.
Im not even an embroider-er(?) and I just winged it.
Not too shabby.
I already washed it once and it washed better than
I thought. No problems at all, the rhinestones and thread
all stayed perfectly in tact.
For a few bucks and a little
innovation, Ive got myself a new shirt.
Hope I inspired you to give new life to
something youre about ready to ditch!
Pin It