I have been loving the polka dots lately.
Shirts, shoes, gloves, walls
you name it, Im diggin.
Heres my inspiration board.
This project was so fast and easy.
And I love the results.
All I did was use my vinyl cutting machine
and cut out 18 2x2in circles
and then stuck em to the wall.
It was super easy.
I just alternated rows, 3 then 2,
and eyeballed the spacing.
Start to finish was like 30 min.
Awesome.
A cute fun and fast fix to an
otherwise boring wall.
Hope you're inspired.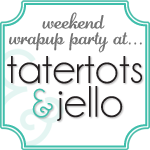 Pin It